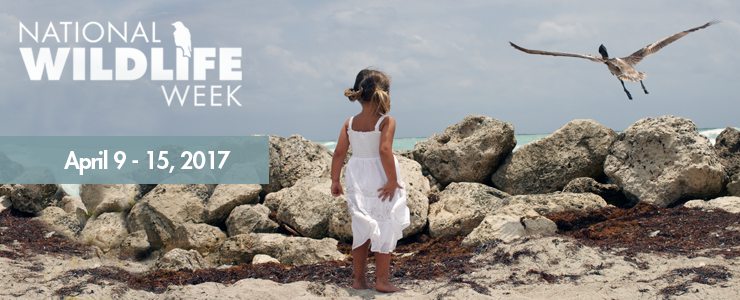 The year 2016 marks the 100th anniversary of the signing of the Migratory Birds Convention between Canada and the United States, which was the first international treaty to conserve wildlife. With a focus on the skies, and all the wild winged creatures that inhabit that domain – from birds and bees to bats and butterflies – the 2016 theme for NWW is GIVING WINGS TO WILDLIFE CONSERVATION.
Donations received throughout activities in this campaign will be directed toward the Canadian Wildlife Foundation's "Wild By Nature" initiative, a campaign designed to secure funding for critical CWF programs.
Join CWF in celebrating National Wildlife Week, April 10 – 16, 2016.
Events
Join us for one of the following events or plan your own activity to mark the occasion.
About
National Wildlife Week is a major Canadian Wildlife Federation initiative designed to celebrate our country's natural heritage and promote the cause of conservation in Canada. Proclaimed by Parliament in 1947, National Wildlife Week falls every year during the week of April 10 – the birthdate of the late Jack Miner, one of the founders of Canada's conservation movement. "Wild Goose Jack", as he was known, is credited with saving the Canada Goose from extinction.
Get Social!
Share how you are celebrating National Wildlife Week or share photos of wildlife in your area on CWF and your own social media. Use hashtag #WildlifeWeek and don't forget to include @CWF_FCF in your tweets.
widget powered by zoomph